Harry C. Tabak: Material, Movement, Memory — A Return to Vietnam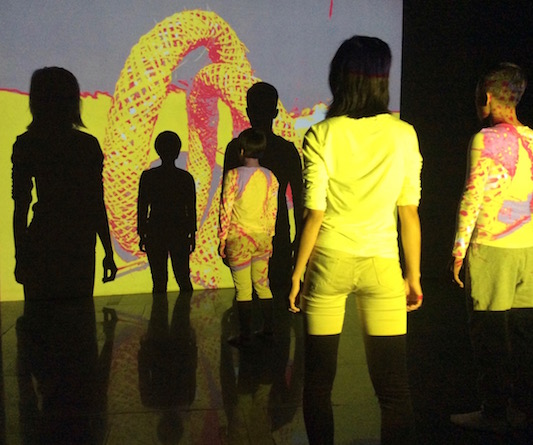 ---
This interview was conducted in December, 2017
Harry C. Tabak's recent artwork draws on his affinity for natural materials and explores how their forms translate into and inspire interpretive dance and movement. This work, created both close to home and in Vietnam, includes sculpture, digital imagery, and video.
Tabak was stationed in Quang Tri with the American military at the height of the Vietnam War, 1968-1969. In 2016, he returned to Vietnam for an art residency under the auspices of Indochina Arts Partnership.
He divided his time between Hanoi and Muong Studio AIR, in the mountains west of the city. The work executed there utilized bamboo and employed Vietnamese artisans, dancers, and a musician. The resulting body of work, at once haunting and exuberant, reflects the artist's journey of discovery, connection, and reconciliation. Here, Tabak reflects on his experiences:
---
When you decided to return to Vietnam in late 2016 as an artist, it had been decades after serving there in the U.S. military. How long had you been thinking about making this return trip?
I never really thought about returning to Vietnam. It was a dark part of my past I couldn't resolve.
During an artist residency at MassMoCA in early 2016, I was trying to come up with a creative way to build some large-scale sculptures. I thought of bamboo (even though I never worked with the material) as a possible solution for the work I had in mind. The rest was an inspired stream of thoughts on how to get this done. I had this sudden urge to somehow connect my art with this unresolved part of my past.
---
A return journey to Vietnam must have been emotionally charged. Did you have any fears about returning?
I must confess I had some reservations about making the trip; I didn't know how people would respond to my visit. I was also nervous about my own feelings in facing the people the American government harmed so much. The planned trip revived old wounds I never really talked about. "Emotionally charged" is the right term for my trip.
---
As an American, what kind of reception did you receive in Hanoi, and what were the residents most curious about when they met you?
At first, I was very cautious as I walked around the park near my hotel in Hanoi. But young people approached me and engaged in conversations, one after another. They only showed warmth and affection with no sense of anger or hostility.
I lost my fear and anxiety very quickly and embraced my new-found friends. They wanted to know where I was from, what I did, what I was doing in Vietnam and how long I was staying. I was happy to share some images of my art with them on my iPad, which they really enjoyed. I shared the fact I was a soldier in 'that' war but this didn't seem to anger them. They assured me they'd put that behind and were looking forward to a better future. I found that difficult to comprehend and accept at first.
---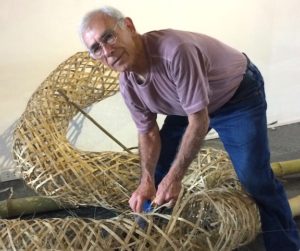 As a sculptor, you've used paper, wood, vines, recycled glass, metal, and more. Recognizing that bamboo is an abundant material in Vietnam, how did you imagine it would fit into the scheme of what you wanted to work on?
The thought of using bamboo was very intriguing to me, and I became comfortable with the idea of using this natural material. I didn't know how I was going to shape the bamboo into my plans for large sculptures but that was a challenge I was looking forward to. The fact that it also had a strong cultural presence in Vietnam made the idea of using this material seem very appropriate.
---
Did you find bamboo to be easier or more challenging than the other sculptural material you've worked with?
As a new material, I had no clue how I was going to use it to create my sculptures in Vietnam. It was a wonderful exploration, not dissimilar to many of my other experiments. Yes, it was very difficult at first but I had helpers who made the learning process much easier. I gained new respect for the qualities of bamboo as a very versatile and enduring material.
---
How did you start incorporating dance and movement into your work, and how did it fit in with your project in Vietnam?
After a few years of trying to take inspiration from the grapevines I'd been working with, which I found to be very lyrical, I began to incorporate dance movement as an extension of my work. I persisted and finally found direction with the help of a choreographer at one of my residencies at MassMoCA. Incorporating dance into my Vietnam project was laced with emotion. It was a way to collaborate with local artists and use the expression of movement to define a sense of reconciliation of both our past and present experience.
---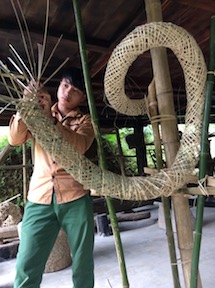 Part of your 9-week trip was a stay at the Muong Studio, an artist residency in the mountains, not too far from Hanoi. How did you communicate with the local people who came to assist you in building your enormous bamboo sculpture, since you had no common language?
That was interesting. I opted not get a translator and relied basically on our intuitive understanding, hand gestures, and my drawings. It worked out wonderfully.
---
You arrived in Vietnam in late October (of 2016), and challenged yourself to fill a huge gallery with new work by early December. That seems almost super-human. How did you accomplish this?
The offer for the exhibition only came about once I began posting my new works at the residency. Since no one (including myself) knew what to expect, I was very pleased to see the response. I was offered the exhibition with about three weeks notice and had to come up with a concept to fill a very very large exhibition space.
I also designed the work for the live dance performance at the same time. Setting up the show and rehearsing with my dancers was also a monumental task given the three days to prepare. In retrospect I'm not sure how I got all that done.
---
If you had to choose two or three of the most memorable aspects of your experience, what would they be?
Above all was my interaction with all the many people I met. That was a very fulfilling and healing experience.
Secondly, as I arrived at my residency, I panicked and questioned how I was going to overcome a number of obstacles and create any work given a number of challenging conditions. I persevered and created some of my best work.
Finally, putting the exhibition together and coming up with a creative solution to display the new bamboo work — while also designing a dance performance — remains a memorable achievement for me.