Narcissist's Library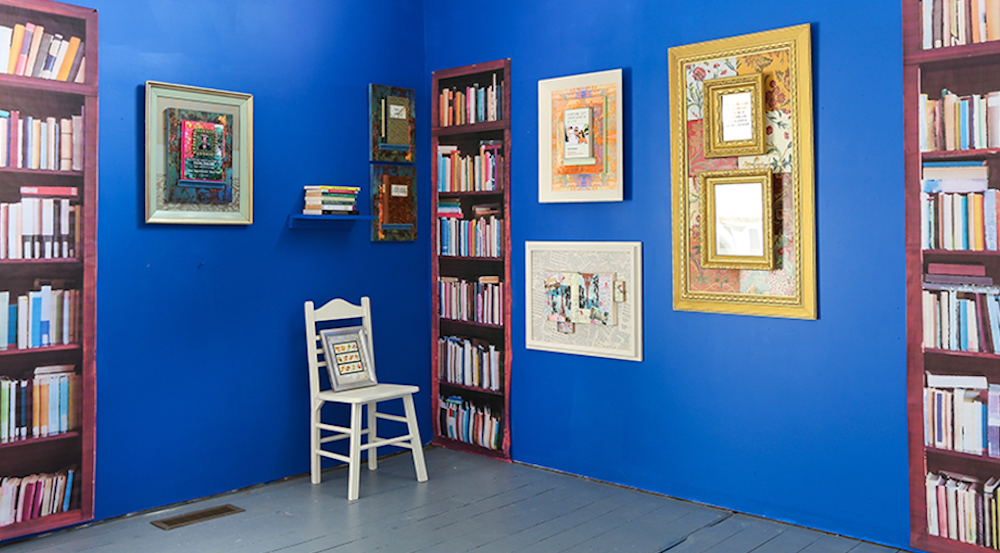 The Narcissist's Library, an installation-based exhibit-in-progress is comprised of a series of pieces that add up to an immersive experience; yet most can stand alone as individual works of art. The personal becomes political and vice versa, in these subversions of the familiar and mundane. This installation need not be exhibited on blue walls, or any specific kind of space; painting part of my studio blue allowed the series to have a certain enclosure as I documented its progress. This installation is envisioned to become specific to whatever kind of space in which it is displayed.
For a full proposal in pdf format, link here: Narcissist's Library full proposal
Let's face it — we're all narcissists to some degree. Even those of us who are altruists and activists are self-involved; we see the world through our own biases, insecurities, and idiosyncrasies. This ongoing series repurposes books and other objects to reflect on the ego-driven thoughts and behaviors many of us share. The over-the-top narcissism that's played out in the public and political arenas is given a subtle nod.
This installation in progress was documented in the artist's studio. The bookshelf elements will be further developed and pushed to a more realistic presentation to tie in with the individual pieces. More furniture and interactive elements are being developed as well.
Here are some individual pieces from the series:
–
–
–
–
–
–
Above is a sampling of the pieces in this series. For more, please link to the pdf in the first paragraph of this post.