Hell's Kitchen: An Exhibition Proposal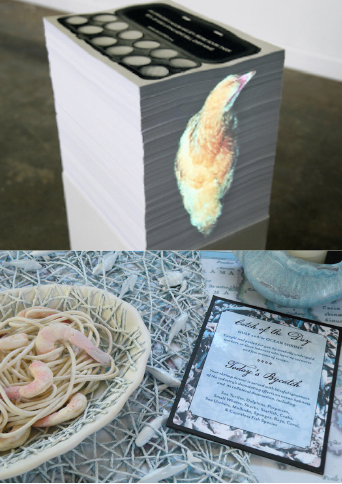 HELL'S KITCHEN
A proposal for a 2-person traveling exhibit featuring the work of Nava Atlas and L.A. Watson
For inquiries, please contact Nava.
See the full Hell's Kitchen proposal.
Hell's Kitchen is a proposal for a traveling art exhibit that examines issues in contemporary food systems — animal abuse, environmental destruction, climate change, worker exploitation, and slavery. The installation-based works by artists Nava Atlas and L.A. Watson lure the eye with pieces that provoke curiosity; some might almost seem playful on the surface. Yet on closer examination, they challenge viewers to consider what often goes unacknowledged about the food we eat and the consequences it has. The multi-layered, research-based works presented in Hell's Kitchen acknowledge the complexities of our contemporary food system by addressing issues of interlocking oppressions based on class and species while touching on issues of gender as well.
There's a hunger, so to speak, to forge a stronger connection with how one's food is sourced and to become more familiar with sustainable practices. But sustainability becomes a meaningless buzzword if the average consumer has no idea how this translates into the food choices that wind up at the table.
For Atlas and Watson, the motivation behind creating the work in this series is foremost to raise awareness. But their intention isn't simply to leave viewers feeling depressed and helpless. This exhibit will provide an opportunity to present alternatives to environmentally harmful and ethically questionable foods. These can be highlighted in the exhibit itself, and amplified at openings and other public programs.
Audiences will learn how impactful "voting with the fork" can be when making food choices. Public programming can be created around this exhibit to demonstrate food swaps that are organic, fair trade, and plant-based, as the case might be. Nava Atlas's connections with natural foods companies can be a great source for food samples for such public programs.
In addition to finished work already on hand, both artists plan on creating new and expanded work during the time it takes to schedule this exhibit. Both artists are currently exploring issues relating to food and its environmental and climate impacts, which will have a greater role in this future exhibit than currently shown in this proposal.