Walter and Poppy
Walter and Poppy
The True Story of Walter White, America's Forgotten Civil Rights Leader and Poppy Cannon, the Woman Who Loved Him
This visual book-length work straddles the realms of cultural studies, biography, and creative nonfiction. For samples of some of the layouts, see Walter & Poppy sample pages. I'm currently looking for a publisher for this work!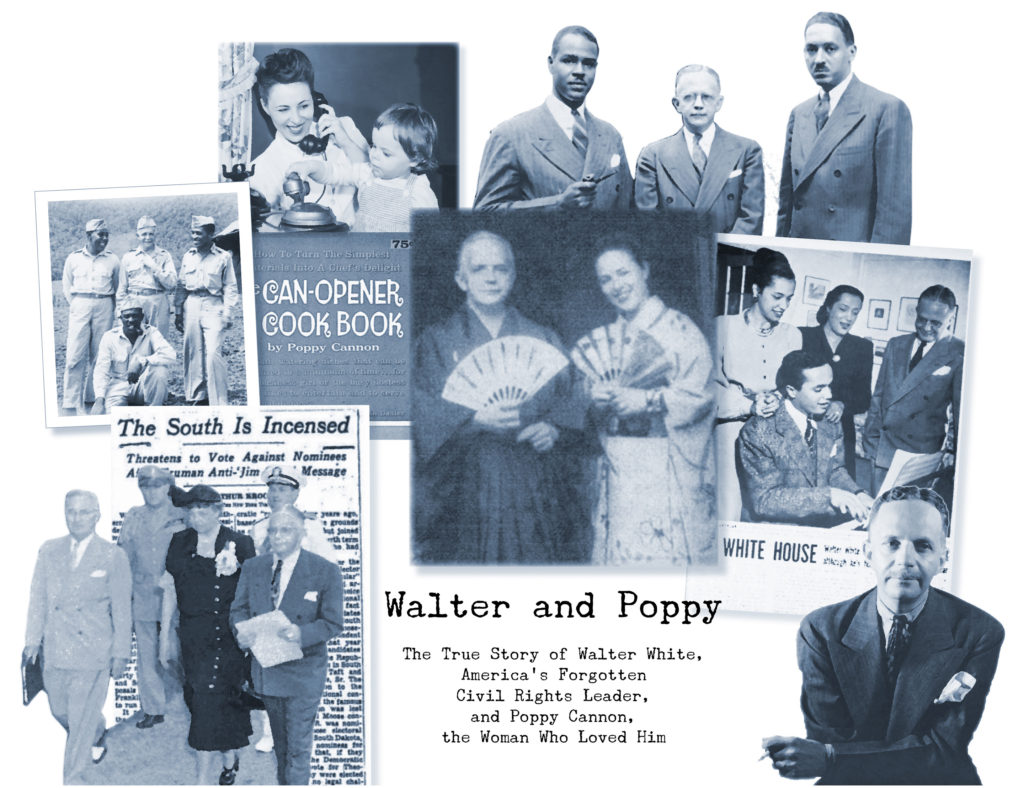 Brief description
When Poppy Cannon and Walter White met at a Harlem Renaissance party in 1929, it was an inconvenient time for them to fall in love. This story follows their on-and-off twenty-year affair and subsequent marriage from the dawn of the Great Depression through the mid-1950s. Manipulating their personal stories, he magnified his African-American heritage; she hid her Jewish roots.
The great-grandson of President William Henry Harrison and his slave, Walter was a blue-eyed blond. Yet, as a product of the South's One Drop Rule he identified completely with the black race. He used his white demeanor to go undercover and investigate lynchings for the NAACP, launching him onto the national stage as the foremost civil rights leader of his time.
Poppy was a prolific mid-century culinary personality with a quirky approach to food and cooking. She loved Walter with a passion that was consuming, badly timed, and may have contributed to his disappearance from history. Their relationship tore two families apart, and culminated in what was considered a scandalous interracial marriage — even though as Poppy was, as she described it, "several shades more brunette" than he.
Walter made friends and courted enemies among the era's most powerful personalities (Eleanor Roosevelt, Harry Truman, Thurgood Marshall, Herbert Hoover, W.E.B Du Bois, George Gershwin, Lena Horne, and Marian Anderson, among many others), and used their influence to further his goals in the arenas of civil rights, politics, and entertainment. Poppy and Walter's love affair is woven between some of the most compelling world events and civil rights struggles of their time. Theirs is a multilayered tale that speaks to the mutability of identity, the vagaries of cultural and personal memory, and the grip of romantic desire.