Secret Recipes for the Modern Wife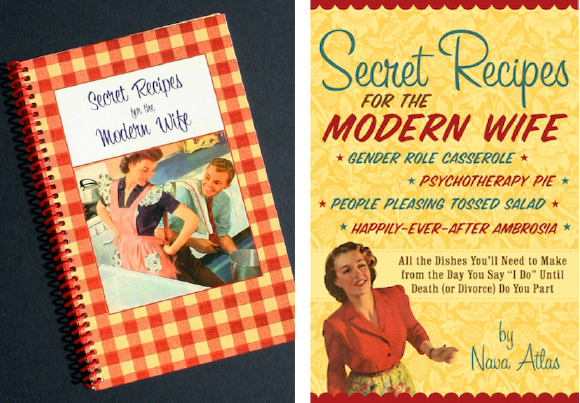 The limit edition artist's book Secret Recipes for the Modern Wife (left) grew into a conventionally published book, published by Simon & Schuster, NY, 2009. It was also taken off the pages to be displayed as a wall installation.
Secret Recipes for the Modern Wife  (limited edition)
Edition of 100, 2008
Laser offset, spiral bound, edition of 100
5.5″w x 8.5″ h, 48 pages
Secret Recipes for the Modern Wife (trade edition)
Published in 2009
Paperback, 96 pages
Back cover description
Flavored with frustration, simmering with rage, and iced with affection, these "recipes" will make you laugh as you multitask your way through the challenges and joys of matrimony.
Whether you're a new bride or an old hand at marriage, it's always handy to find fresh and fascinating "recipes" to add to your repertoire. Enveloped in them are the secrets — delicious, distressing, and everything in between — that accompany women on their marital journeys.
Though she grills societal norms with gleeful relish, Nava Atlas never loses sight of marriage's simple, loving rewards. The result is a feast of retro art, sly wit, and cultural commentary. No woman will be able to read this without thinking of five friends she must share it with!
Reviews of trade edition
A Wedding Toast to a Magnificent Mock Cookbook for the 'Modern' Wife – The book's a hoot, but also filled with lots of wisdom. — Creator's Syndicate
Secret Recipes for the Modern Wife has everything you'll need to heat your burners—it's packed with "food" for thought on marriage and motherhood. It's so rich, I like to call it a tongue-in-cheek treasure trove of marital gems! — Feisty Side of Fifty/Baby Boomer Women
Delightfully retro in look, it's savagely funny in tone . . . highly recommended for wives in general. —New York Daily News
Quirky Book of the Week: This kitschy faux cookbook pairs '50s-era photos of repellent-looking dinner items with tongue-in-cheek recipes that poke fun at the war-torn institution of marriage. — Atlanta Journal-Constitution
Whether a new bride or an old hand at wedded less-than-bliss, every wife (or ex-wife) will savor this scrumptiously sarcastic portrait of contemporary marriage. Hilarious, thought-provoking, and cleverly designed . . . skewers today's cultural norms with a collection of "recipes" that illustrate the subtle madness of matrimony. — Taste Magazine Cincinnati
Peppered with Nava's trademark humor and sly wit. The book also shows Nava's artistic flair and fondness for the book arts. Paired with retro food photos from the 1950s, Secret Recipes for the Modern Wife also offers a taste of the sweeter side of matrimony and child rearing. — Poughkeepsie Journal
Secret Recipes of the Modern Wife serves up a succulent and irreverent elixir for any woman who has ever said "I do" (and for those who eventually said "I don't"). — First Wives World