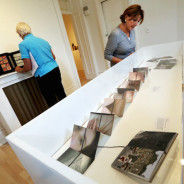 By Tammy La Gorce for the New York Times, New Rochelle, NY. October 5, 2012. The book artist Maureen Cummins says she deliberately "snares" viewers by luring them toward an image they're familiar with. Then she surprises them with information that doesn't necessarily fit their preconceived notions. "It's an ambush approach — a way of engaging people when you want to explore something difficult," said Ms. Cummins, 49, of High Falls. Castle Gallery, a three-room space tucked into the campus of the College of New Rochelle, does not lend itself to thoughts of such surprise attacks: its blond wood floors and white walls transmit a breezy, open-air lightness. But since "In Retrospect," a show that will run through Nov. 4, opened there early last month, artistic ambushes have been occurring daily, said Katrina Rhein, the gallery director. Read the rest of the article at The New York...
read more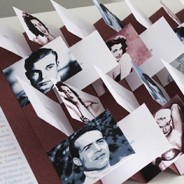 "For as long as I can remember, I've had a passion for words and images in equal measure," says the artist/author Nava Atlas of what has pulled her into the sort of book-art work that will be on display starting on Friday, November 19, 2010 at SUNY-Ulster's Muroff/Kotler Visual Arts Gallery in Stone Ridge, alongside comparable works by fellow Ulster County artists Ann Lovett and Maureen Cummins.
read more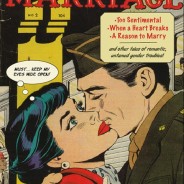 By Brian K. Mahoney, November 29, 2010. Since the advent of the mass-market paperback in the early 20th century, artists' books have been a bit of an odd duck.  When those of us born after World War I think of books, we think of industrial commodities designed along the precepts of built-in obsolescence, each object in a print run indistinguishable and equally disposable.  Artists' books, however, are art in books' clothing—one-of-a-kind pieces made for display, not beach reading. The nature of the objects—books are containers for knowledge, after all—also influences the subject matter for book artists. Rather than creating merely beautiful or decorative artifacts, artists' layer the traditional content of books—words, graphs, and images—to tackle social and political issues in three dimensions. Read the rest of the article on...
read more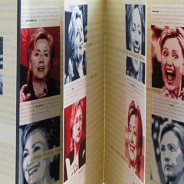 Washington Post, Saturday, February 21, 2009. Anyone in publishing will tell you that a great cover has the power to make a good book a bestseller, or a not-so-good book at least a smidge more interesting. But the books in this two-venue show, split between Pyramid Atlantic Art Center in Silver Spring and Target Gallery in Alexandria, aren't meant to be judged by their covers. Created by such artists as Nava Atlas and Elise Wiener, the books use art not only to embellish their appearances but also to tell their stories. At Pyramid Atlantic, Atlas's book, (Mis)labeling Hillary, or Why She Just Couldn't Win draws from news accounts of last year's campaign; spotlighted in this way, sexism (and the artist's point) is hard to ignore. Read the rest of the column at The Washington...
read more